Philippines Electric Vehicle Market Outlook (2020-2025)
Market Forecast By Vehicle Types (Electric 2-Wheeler, Electric 3-Wheeler, Electric 4-Wheeler (Passenger Car And Light Commercial Vehicle (Goods Carrier)), Electric Bus And Electric Truck), By Charger Types (AC And DC), By DC Charger Connector Types (CHAdeMO, CCS And Others (Including Tesla Superchargers And GB/T), By DC Charger Power Ratings (40-80 KW, 80-120 KW And 120-200 KW), By Charger End Consumers (Public And Private) And Competitive Landscape.
Philippines Electric Vehicle Market report comprehensively covers the market by vehicle types, charger types, DC charger power ratings, and by-charger end consumers. Philippines electric vehicle market report provides an unbiased and detailed analysis of the ongoing trends, opportunities/high growth areas, and market drivers which would help the stakeholders to devise and align their market strategies according to the current and future market dynamics.
Philippines Electric Vehicle Market Synopsis
The Philippines continues to develop its electric vehicle (EV) market as industry and government are cooperating to support the electric vehicle (EV) adoption in the Philippines. Moreover, new EV launches by OEMs and the establishment of charging infrastructure are expected to further encourage the growth of the electric vehicle market in the country. Additionally, the 2-wheeler, 3-wheeler, and 4-wheeler electric vehicle market are expected to take a hit amid the Covid-19 pandemic in 2020 while the electric bus market is likely to remain relatively resilient.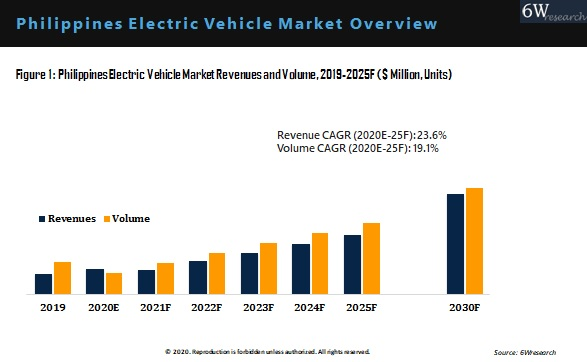 According to 6Wresearch, Philippines electric vehicle market size grew at a CAGR of 23.6% during 2020-2025. Under the EV manufacturing roadmap, the Department of Trade and Industry (DTI) has issued incentives such as the removal of tariffs, excise duty exemptions, and VAT exemption for raw materials/parts/capital equipment for EV manufacturing. Further, the Department of Transportation (DOTr) is implementing a Public Utility Vehicle (PUV) Modernization Program, a large-scale transportation initiative that calls for the replacement of ICE jeepneys (public transport) with next-generation vehicles (e-jeepneys).
Market Analysis By Vehicle Types
2-Wheelers is the largest segment in the Philippines automotive industry. Additionally, the other smaller-scale programs launched by Local Government Units (LGU's)such as the Department of Energy's E-Trike Project aims to (1) deploy 100,000 e-trikes nationwide to replace the same number of traditional gasoline-fed tricycles; (2) reduce the transport sector's annual petroleum consumption by 2.8% (equivalent to 89.2 million liters) per year; and (3) achieve 79% carbon dioxide(CO2) footprint avoidance, and businesses such as resorts on the adoption of EV's would foster the demand for electric vehicles in the coming years.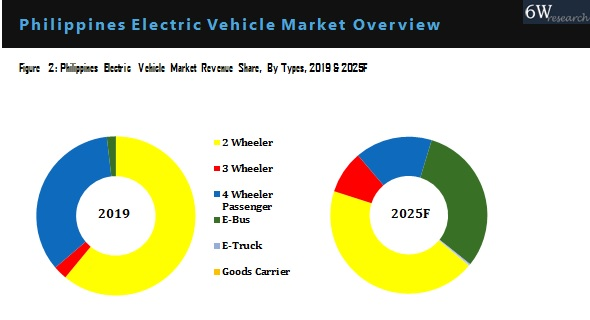 Credits to: 6wresearch